Long Island City Market Overview


$965,672
Median Sales Price
The average absolute price is $965,672 with the highest of $3,695,000 at Casa Vizcaya.
$1,194 per/ft²
Average Sales Price $PSF
The average price per foot is $1,194 with the highest of $1,810 at The View at East Coast.

* Source: LIC real estate report, Morden Space Q1 2018
Zip Code Area Population Characteristics:


11101 Zip Code Area
Regional population
25,317
Average Age
35.4
High School or Above
72.4%
Population Composition
Young people with high incomes
Average Househole Income
$73,313
White Collar/Blue Collar
87%/13%
Family with Child
20.5%
Average Family Member
2.14
Principle Residence
17.1%
* Data source: ArcGIS Esri database, and Property Shark, December 2018.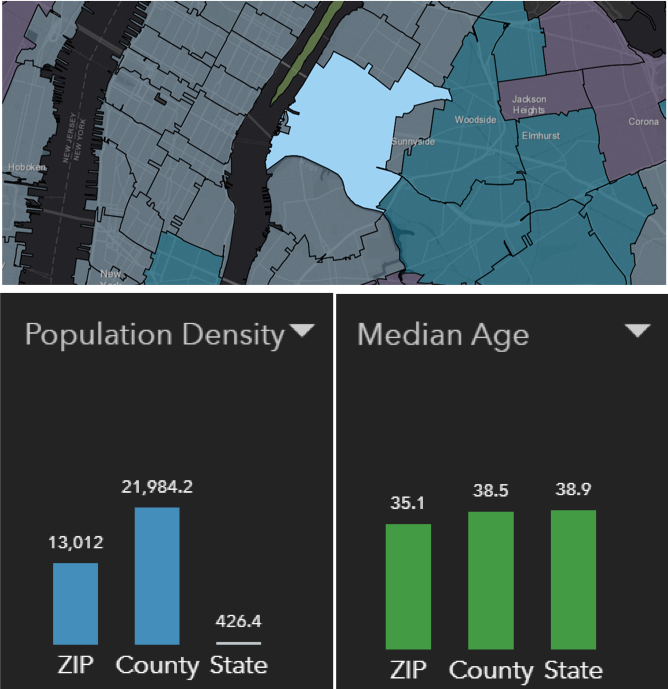 Surrounding Property Construction:

- Within the 3 miles around the project center, there are 70 projects in progress in the past year. Among which 31 projects are waiting for the approval of drawings, 35 projects are under construction, 1 project has been completed and occupied, and 2 projects have been abandoned.

- In the residential building of the same type, the largest project developed by PMG is located at 23-10 Queens Plaza South. This project is a 330,000 feet 44-story residential project with a comprehensive development building supporting the community service center. At present, the project has been basically completed.

- Second, the 29-22 Northern Blvd project, developed by Quadrum Global, is a 43-story, 467-unit residential building that is still under construction.

- The total cost of 35 residential projects in the nearby area is more than 1.5 billion us dollars, among which 10 projects of 1-5 million us dollars account for 10 projects, 6 projects of 5-10 million us dollars account for 6 projects, and 19 projects of more than 10 million us dollars account for 19 projects.The vast majority of these are building projects for Rental apartments.
Sales Comparison 1:

Address: 25-19 43 Avenue, Long Island City, NY, 11101

- Year of Sale: 2016
- Total Units: 85
- Story: 9
- Developer: Ekstein Development
- 421A Tax Deductable: Yes(per NYC Department of Finance)
| | | | | | | | |
| --- | --- | --- | --- | --- | --- | --- | --- |
| Apt # | Bedroom | Bath | SF | Status | Listed Price | Date | PPSF |
| PH3 | 2 | 2 | 1159SF | Under Contract | $1,450,000.00 | | $1,251.08 |
| 506 | 1 | 1 | 739SF | Sold | $848,022.00 | 2018/1/30 | $1,147.53 |
| 601 | 2 | 2 | 970SF | Sold | $1,046,581.00 | 2018/1/31 | $1,078.95 |
| 608 | 2 | 2 | 1046SF | Under Contract | $1,230,000.00 | | $1,175.91 |
| 708 | 2 | 2 | 1046SF | Sold | $1,250,000.00 | 2017/7/20 | $1,195.03 |
| 602 | 1 | 1 | 770SF | Sold | $870,603.00 | 2018/1/12 | $1,130.65 |
| 211 | 2 | 2 | 1004SF | Sold | $1,100,000.00 | 2016/6/20 | $1,095.62 |
| 505 | 1 | 1 | 739SF | Sold | $825,000.00 | 2016/4/29 | $1,116.37 |
| Average | | | | | | | $1,148.89 |
* Data sources: Steeteasy.com/Building
Sales Comparison 2:

Address: 27-21 44 Drive, Long Island City, NY, 11101

- Year of Sale: 2016
- Total Units: 120
- Story: 27
- Developer: Silvercup properties
- Facilities: Bicycle parking, Elevator, Gym, Parking lot
- 421A Tax Deductable: Yes(per NYC Department of Finance)
| | | | | | | | |
| --- | --- | --- | --- | --- | --- | --- | --- |
| Apt # | Bedroom | Bath | SF | Status | Listed Price | Date | PPSF |
| 2501 | 2 | 2 | 1027SF | Sold | $1,650,000.00 | 2017/11/19 | $1,606.62 |
| 801 | 1 | 1 | 662SF | Sold | $870,603.00 | 2018/01/24 | $1,315.11 |
| 1305 | Studio | 1 | 464SF | Sold | $636,406.00 | 2018/01/23 | $1,371.56 |
| 1401 | 1 | 1 | 662SF | Sold | $915,000.00 | 2017/03/24 | $1,382.18 |
| 1803 | 1 | 1 | 646SF | Sold | $850,000.00 | 2017/02/10 | $1,315.79 |
| 1502 | 3 | 2 | 1261SF | Sold | $1,900,000.00 | 2017/01/03 | $1,506.74 |
| 205 | 2 | 2 | 996SF | Sold | $1,385,000.00 | 2016/11/01 | $1,390.56 |
| 2402 | 3 | 2 | 1261SF | Sold | $1,939,766.00 | 2017/11/29 | $1,538.28 |
| Average | | | | | | | $1,428.35 |
* Data sources: Steeteasy.com/Building
Rental Comparison 1:

Address: 11-24 31st Avenue, Long Island City, NY, 11106

- Property: East River Tower
- Units: 62
- Floors: 20
- Facilities: Doorman, Elevator, Gym, Parking Available
- 421A Tax Deductable: Yes(per NYC Department of FInance)
| | | | | | | | |
| --- | --- | --- | --- | --- | --- | --- | --- |
| Apt # | Bedroom | Bath | SF | Status | Rent/Month | Date | PPSF |
| 18A | 2 | 1.5 | 700SF | Rented | $3,850.00 | 2017/03/01 | $66.00 |
| 10C | 1 | 1 | 711SF | Rented | $2,600.00 | 2017/02/23 | $43.88 |
| 18 | 2 | 1.5 | 1000SF | Rented | $3,850.00 | 2017/03/27 | $46.20 |
| 7D | 1 | 1 | 699SF | Rented | $2,700.00 | 2016/07/06 | $46.35 |
| 5D | 1 | 1 | 711SF | Rented | $2,500.00 | 2016/07/21 | $42.19 |
| 17C | 2 | 2 | 711SF | Rented | $4,200.00 | 2016/04/12 | $70.89 |
| Average | | | | | | | $52.59 |
* Data sources: Steeteasy.com/Building
Rental Comparison 2:

Address: 35-40 30th St., Long Islang City, NY, 11106

- Year of Sale:May 2010
- Units: 62
- Floors: 6
- Facilities: Gatekeepers, Elevator, Gym, Parking lot
- 421A Tax Deductable: Yes(per NYC Department of FInance)
| | | | | | | | |
| --- | --- | --- | --- | --- | --- | --- | --- |
| Apt # | Bedroom | Bath | SF | Status | Rent/Month | Date | PPSF |
| 3J | 1 | 1 | 632SF | Rented | $2,550.00 | 2016/12/22 | $48.42 |
| 1J | 1 | 1 | 650SF | Rented | $2,750.00 | 2016/09/06 | $50.77 |
| 1C | Studio | 1 | 460SF | Rented | $1,925.00 | 2016/06/13 | $50.22 |
| 4D | Studio | 1 | 466SF | Rented | $2,000.00 | 2016/04/28 | $51.50 |
| 3D | Studio | 1 | 450SF | Rented | $1,800.00 | 2015/11/02 | $48.00 |
| 5D | Studio | 1 | 460SF | Rented | $1,950.00 | 2015/08/17 | $50.87 |
| 4C | Studio | 1 | 460SF | Rented | $1,950.00 | 2015/08/09 | $50.87 |
| PHC | 2 | 2 | 1,046SF | Rented | $4,000.00 | 2015/06/29 | $45.89 |
| Average | | | | | | | $49.57 |
* Data sources: Steeteasy.com/Building
Surrounding Similar Property Comparison:

Sales Status about surrounding similar property private suite unit.(Dec.2016 to Dec. 2018)

- Number of Properties: 21
- Number of Sales Units: 21
- Median Transaction Price $PSF: $1,001
- Median Transaction Price: $6000,000
- Median Sales Area: 571 ft²
| | | | | | |
| --- | --- | --- | --- | --- | --- |
| Address | Area(SF) | $/SF | Transaction Date | Transaction Price | Year of Build |
| 35-40 30th St #1D | 573 | $828.97 | 2017/07/05 | $475,000 | 2007 |
| 42-51 Hunter St #3A | 1209 | $974.36 | 2017/09/27 | $1,178,000 | 2007 |
| 44-15 Purves St #8B | 713 | $1,122.02 | 2017/11/27 | $800,000 | 2012 |
| 26-26 Jackson Ave #905 | 787 | $1,175.35 | 2017/04/26 | $925,000 | 2007 |
| 43-33 42nd St #3B | 537 | $968.34 | 2018/11/29 | $520,000 | 2008 |
| 44-27 Purves St #9C | 663 | $1,011.48 | 2017/07/26 | $670,610 | 2006 |
| 44-27 Purves St #11D | 789 | $1,001.27 | 2018/01/26 | $790,000 | 2006 |
| 44-27 Purves St #14F | 525 | $1,123.81 | 2018/02/22 | $590,000 | 2006 |
* Data sources: Property Share.com