---
SUMMARY
Total Investment: $1,500,000(Maximum) *
Expected Annualized Return: 8.0% - 8.5% *
Investment Type: Preferred Equity *
Minimum Investment: $10,000 per Membership Unit
Investment Duration: 12 - 18 Months
Payment Period: Semi-annual Payment in advance
* Expected Closing Date: June 30th, 2019 or After Fundraising Mission Accomplished
* Subscribers will enjoy 8.5%/year expected annual return for investment on & above $500,000, plus 2.5% discount off for purchasing office condo. Final price will be base on approved condo book provided by developer. Crowdfunz reserve the right of final explanations.
* Preferred Equity 807 will take 100% of developer's equity as collateral when proceed to closing.
---
PROPERTY OVERVIEW
Location: 133-20/22 41st Rd, Flushing, NY 11355
Neighborhood & Borough: Flushing, Queens, NY
Lot Size: 5,000 sqft (50 ft * 100 ft)
Zoning: R6
Building Size: 23,618 sqft
Purchase Price: $6 million
Construction Loan: Approved, waiting for closing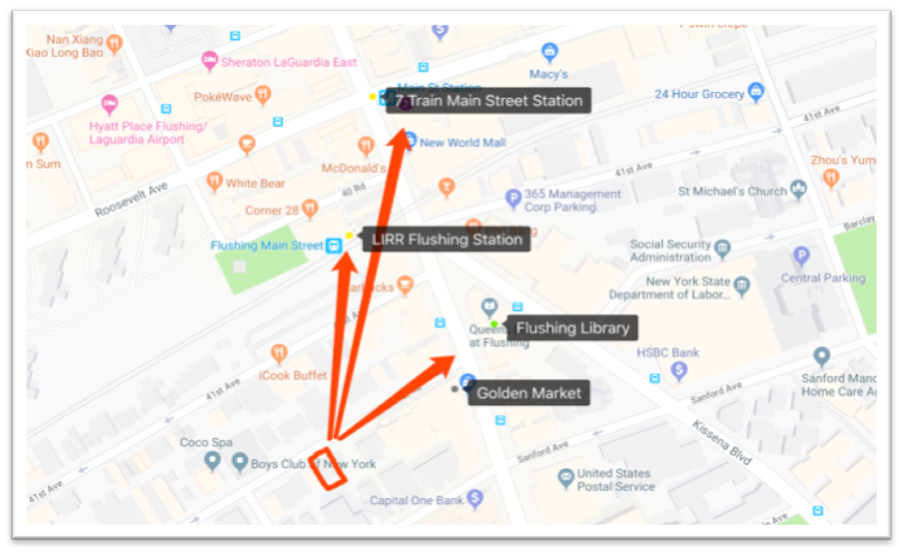 - Located in downtown flushing, the developer bought the lot with 6 million USD in 2017. The buildable price, $254/SF, is strongly competitive compared with new medical offices in flushing neighborhood. The demolition has been done.
- The project contains 10-story all-new-designed, well-decorated modern medical offices & 30 parking lots. There are tens of medical offices in south flushing with limited services and outdated conditions. This project offers opportunities for bring medical services to new level.
- Right beside Flushing Library & Golden Shopping Mall, this property is only 5 mins walk to 7 train & LIRR main street station and surrounding bus stops. This all-new medical office could cover over 85,000 people living in south flushing, 70% of which are Asian.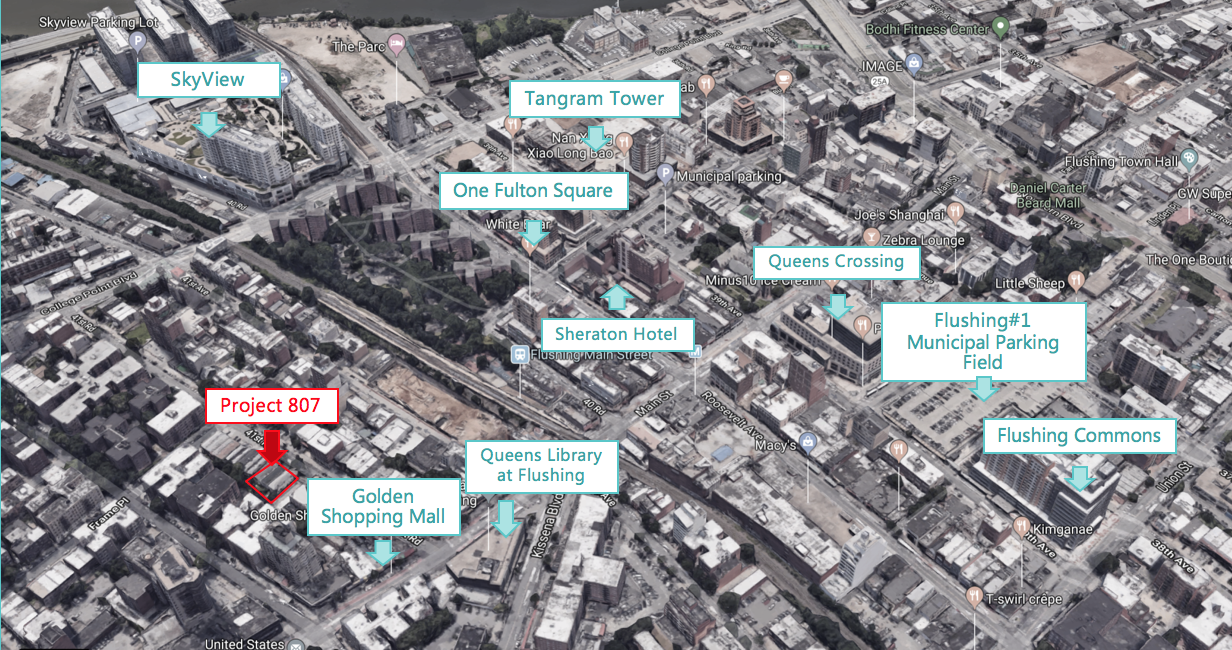 ---
Payment Projection
807 Financing & Interest Payment Timetable *
Payments
Round of Investors
Funding Deadline
Payment Date *1
Bearing Date
Due Date
Interest Period
Notes
1st Batch
All Investors
2019-6-15
No Later Than
2019-6-30
No Later Than
2019-6-30
No Later Than
2019-12-31
6 Months
Pre-paid Interest
2nd Batch
All Investors
No Later Than
2020-1-1
No Later Than
2020-1-1
No Later Than
2020-6-30
6 Months
Pre-paid Interest
3rd Batch *2
All Investors
No Later Than
2020-7-1
No Later Than
2020-7-1
No Later Than
2020-12-31
6 Months
Pre-paid Interest
* Timetable will be updated periodically, please find latest version on our website
*1If the Payment date falls into holidays or weekends, distributions will be processed by the next business day
*2The 3rd Batch payment will be determined by developer's deferred option
---
INVESTMENT HIGHLIGHTS
Premium Location
Only 2 mins walk to Golden Shopping Mall & Flushing Library, Tenfu Medical Center lies across the street; The property located in south downtown Flushing. Arising developments in this area will bring up its potential value.
Industry-Leading Developer
Native Chinese developer, equipped with vast construction experience and well-established connections, has been rooted in NYC real estate development for over 20 years; Familiar with flushing neighbor with highly spoken reputation.
Solid Fund Structure
Demolition was done, new blueprint and construction loan have been approved. 1 million USD preferred equity will cover mostly on construction insurance, legal contracts, government processing fees and other soft costs.
Fund Security Measurement
1.5 million USD preferred equity investment will be guaranteed by 4.54 million USD common equity + over 10 million USD personal guarantee. The market value of the completely project is 21 million USD, which is 1.68 times of sum of construction loan and preferred equity.
Clear Exit Strategy
Investment period will be over once the developer receiving funds from finished projects. If the loan is defaulted, Crowdfunz will sell out developer's equity share or forfeit personal properties for repayment purpose.
* The delay of the principle payment from borrower (Developer) will trigger double interest penalty which the investor shall receive double interest (16-17%/year) on any unpaid principle from the due date to the date of receiving payment in full which subject to the payment of the borrower.
---
FINANCIALS
Source of Funds
Capital Allocation
Ratio
Funding Condition
Construction Loan
$

11

,

0

00,000

64.54

%

Approved *
Preferred Equity
$

1

,500,000

8.80%
Processing
Developer Equity
$

4

,5

43

,

000

26.66%

Spent

Total
$

17,043,000

100.00%
Use of Funds
Cost Breakdown
Amount
Ratio
Funding Condition
Land Acquisition
$

6

,

000

,

000

35.20

%

Partially

Spent
Hard cost with contingency
$

8

,7

25

,

000

51.19

%

Partially Spent
Soft cost with contingency
$

1

,36

8

,

000

8.03

%

Partially Spent
Finance cost w/ interest reserve
$95

0

,

000

5.57

%

Partially Spent
Total
$

17,043,000

100%
Sale Projection
Part A
Sellable Unit #
Notes
Unit Price
Total Price
Parking Lot
30
$50,000/Spot
$1,500,000
Part B
Sellable SF
Notes
Sale Price/SF
Total Price
Community Facility
23,286 Sq Ft
10-story 13 office condominiums
$900/SF
$20,957,400*
Anticipated Market Value:
$22,457,400
Work Schedule
The land has been leveled, The project will break ground soon
On Going
The developer will buy construction insurance, renegotiate contracts with third parties, speed up related government approval
June 2019
Waiting for construction loan landing, proceed to foundation construction period
Dec 2019 – June 2020
* The total loan package is 11 million USD, which includes 3 million USD Land Loan plus 8 million USD Construction Loan.
* Per appraisal from Cushman & Wakefield, the market value of finished property is over $20 Million, bank will provide $11 Million acquisition & construction loan which has been approved.
---