---
SUMMARY
Offering Amount: $6,000,000 U.S. Dollars
Estimated Return: 8.00% - 8.25% Annualized Return*1
Investment Type: Equity Pledge Loan

Unit Price: $10,000 per Subscription Unit
Offering Date: November 2020
Investment Horizon: 3 - 6 Months(3+1+1+1 Months)
Dividend Schedule: Prepaid before per Period
Special offer: 3%Condominium Purchase Discount*2
*1 8% Annualized Return For Investment of 1-19 Units;8.25% Annualized Return for investment above 20 Units.
*2 Investor with more than 25 units; Accept RMB transactions.
---
PROPERTY OVERVIEW
Address: 134-37 35th Ave, Flushing, Queens, NY, 11354
Area: Flushing, Queens, New York
Lot Size: 42,050 Square Ft.(165*235 FT)
Zoning: R6, C2-2(FAR is 4.8 times)
Building Size: 201,840 Square Ft.
Closing Price of Land: $4,300,000 (2003)
Current Price of Land: $44,404,000 (2018)
The development is a mega mix-used building with 16 floors and a total of 280,000 square feet. After completion, it will contain 9 retail spaces, a 210-key Four Points by Sheraton hotel, and 100 condominiums from 9th to 16th floor. The building also include 186 parking lots.
The developer has purchased the land in 2003 at a price of $4.3 million. The proposed architectural plan and working permit of the proposed development were approved in July 2015, and the construction began in 2016. In December 2019 , the residential units of the development were completed and obtained TCO (Temporary Certificate of Occupancy). The condominiums are currently under operations, offering living facilities like swimming pool, gym, 24-hour doorkeeper and other services. The rest parts of the development are still under construction..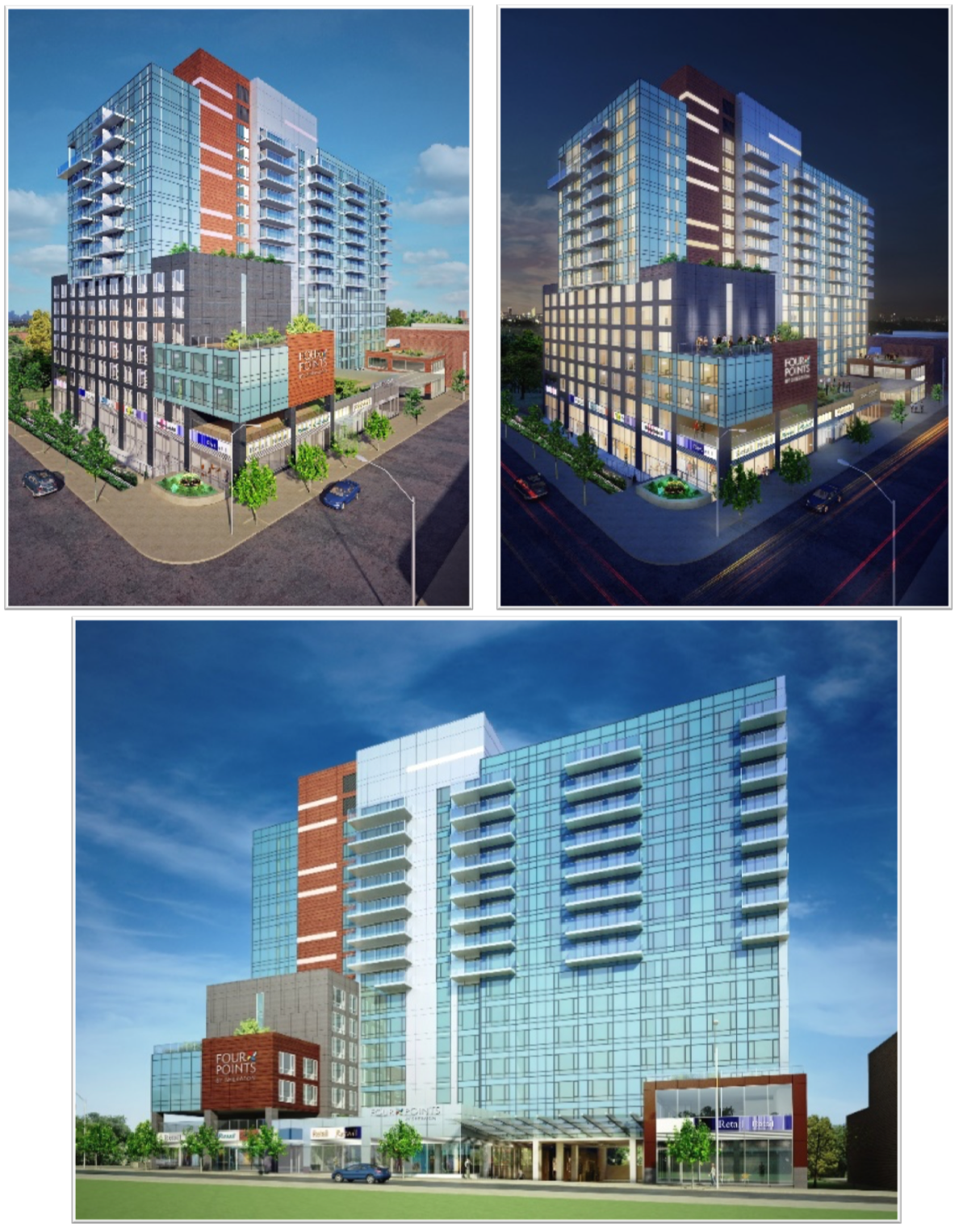 ---
Payment Projection
Expected Dividend Calendar
Round of Dividend
Round of Investment
Funding Amount
Dividend Date *1
Counting Date
Ending Date
Dividend Period
Notes
First
Phase I
$2,000,000
No Later Than
12/14/2020
11/30/2020
2/28/2021
3 Months
Pre-Paid Dividend
Phase II
$2,000,000
No Later Than
1/14/2021
12/30/2021
2/28/2021
2 Months
Pre-Paid Dividend
Phase III
$2,000,000
No Later Than
2/14/2021
1/31/2021
2/28/2021 *2
1 Month
Pre-Paid Dividend
Second
No Later Than
3/14/2021
3/1/2021
3/31/2021
1 Month
Extension Options Owned by Developer
Third
No Later Than
4/14/2021
4/1/2021
4/30/2021
1 Month
Extension Options Owned by Developer
Fourth
No Later Than
5/14/2021
5/1/2021
5/31/2021
1 Month
Extension Options Owned by Developer
*1 In case of holidays and non-working days, the dividend date will be automatically postponed to the next working day.
*2 After the expiration of the first Dividend Period, the developer has the option to extend the borrowing 3 times. If the developer chooses to extend,   the investors will receive dividends at the same rate of return during the postponement.
---
INVESTMENT HIGHLIGHTS
Sufficient Value in the Collateral
According to the appraisal provided by CBRE in January 2018, after completion, the value of the property is estimated in $150 million.
Among the development, based on the latest sales projection in condo book, the value of 100 condominiums is around $108 million; the 210-key hotel is worth $61.8 million; 9 retail spaces are valued about $10.72 million; 3 community facilities are around $13.59 million; 186 parking lots have market value about $13.67 million. The total sale price of the project property is estimated over $208 million.
By the end of October 2020, the total loan outstanding of the development is $35 million, mortgaged by 100 condominiums. The rest of the development has not been collateralized.
The short-term loan provided by CrowdFunz Fund 814 is pledged by the borrowing entity's 100% ownership interest. The developer's own equity investment is over $37.5 million, which is 6.25 time of the loan provided by CrowdFunz Fund 814. As of this offering, the value of the developer's pledged equity is estimated over $100 million. In addition, to protect the interests of fund investors, the developer also provides unlimited personal guarantee in this borrowing.
Prime Location, In Demand Market
The development is located in the prime area in Flushing, Queens. The surrounding public transportation is well developed, offering 7 train lines, Bus lines like Q25, Q34, Q50, and Q19. The tenants can reach various communities in Queens or take trains directly to Manhattan or Long Island. It also takes about 10-minutes driving from the site to JFK airport and 5-minutes to LGA airport.
In recent years, with the flourishing of Asian and Chinese communities, the demands for residential and commercial properties in Flushing have been increasing drastically. Compared with other areas in New York, Flushing is vibrant and growing with a large population density. The real estate market continuously shows its potential, aligning with the boom of regional business environment.
According to the data from Trulia and Zillow, the median price of house sold in Flushing is about $508,053, and the median monthly rental price is about $2100. Those increases have been steady over the last 7 years.
Transparent Fund Usage, Explicit Exit Strategy
Currently, all condominiums in the development have been completed with acquired TCO, and the construction of rest parts is in a process of 80%. The remaining works include installation of walls, doors and windows, completion of the interior decorations of the hotel and other spaces. It is materially considered that the construction risk in the development is low. The loan offered by CrowdFunz Fund 814 will help the developer fill urgent needs on construction and FF&E expenses, which affected by trade war and pandemics in this year. Upon completion, the developer will apply for refinancing to repay the loan originated by CrowdFunz Fund 814.
Seasoned Developer with Approved Experience
The developer has been deeply involved in real estate market of New York City for 30 years. It is well-known and has a good reputation in the local market. Its successful projects in the past are mainly concentrated in Queens. In recent years, it has extended the developments in medium-sized, mixed-use, and residential projects. In addition, the developer has successfully cooperated with CrowdFunz Holding LLC. through CrowdFunz Fund 810 and Fund 814. Both funds are currently under good operations, and the construction progresses are stable. Based on current cooperation, the developer's past records, its development strength, and business reputation, we believe that CrowdFunz Fund 814 will help create a deeper cooperative relationship.
---