---
SUMMARY
Offering Amount: $3,600,000 U.S. Dollars
Estimated Return: 8.00% - 8.25% Annualized Return*1
Investment Type: Equity Pledge Loan

Unit Price: $10,000 per Subscription Unit
Offering Date: May 2021
Investment Horizon: 12 - 24 Months(12+6+6 Months)
Dividend Schedule: Prepaid before per Period
*1 8% Annualized Return For Investment of 1-19 Units;8.25% Annualized Return for investment above 20 Units.
---
PROPERTY OVERVIEW
Address: 4530 Pearson Street, Long Island City, NY, 11101
Area: Long Island City, Queens, New York
Lot Size: 20,270 SF
Zoning: M1-5/R7-3 (FAR =5)
Salable Size: 100,538 SF
Building Size: 138,648 SF
Market Value after Operation: $140,600,000 (From the appraisal provided by Marshall & Stevens, January 2021)
In this project, the developer started land acquisition and architecture works in 2019. After work permit issued by government agencies, the initial construction began in the first quarter of 2021. The foundation and its structure are currently under construction, and the holistic foundation is estimated to be completed by the end of May 2021.The proposal of the development is 25-floor building with a total of 100,538 saleable square feet, containing 130 condominiums and 15 parking lots. The project is expected to be completed in the third quarter of 2023. Based on developer's plan,Condo Book will be issued in 2022,and the condominium sales and closings will be executed as soon as Certificate of Occupancy being approved.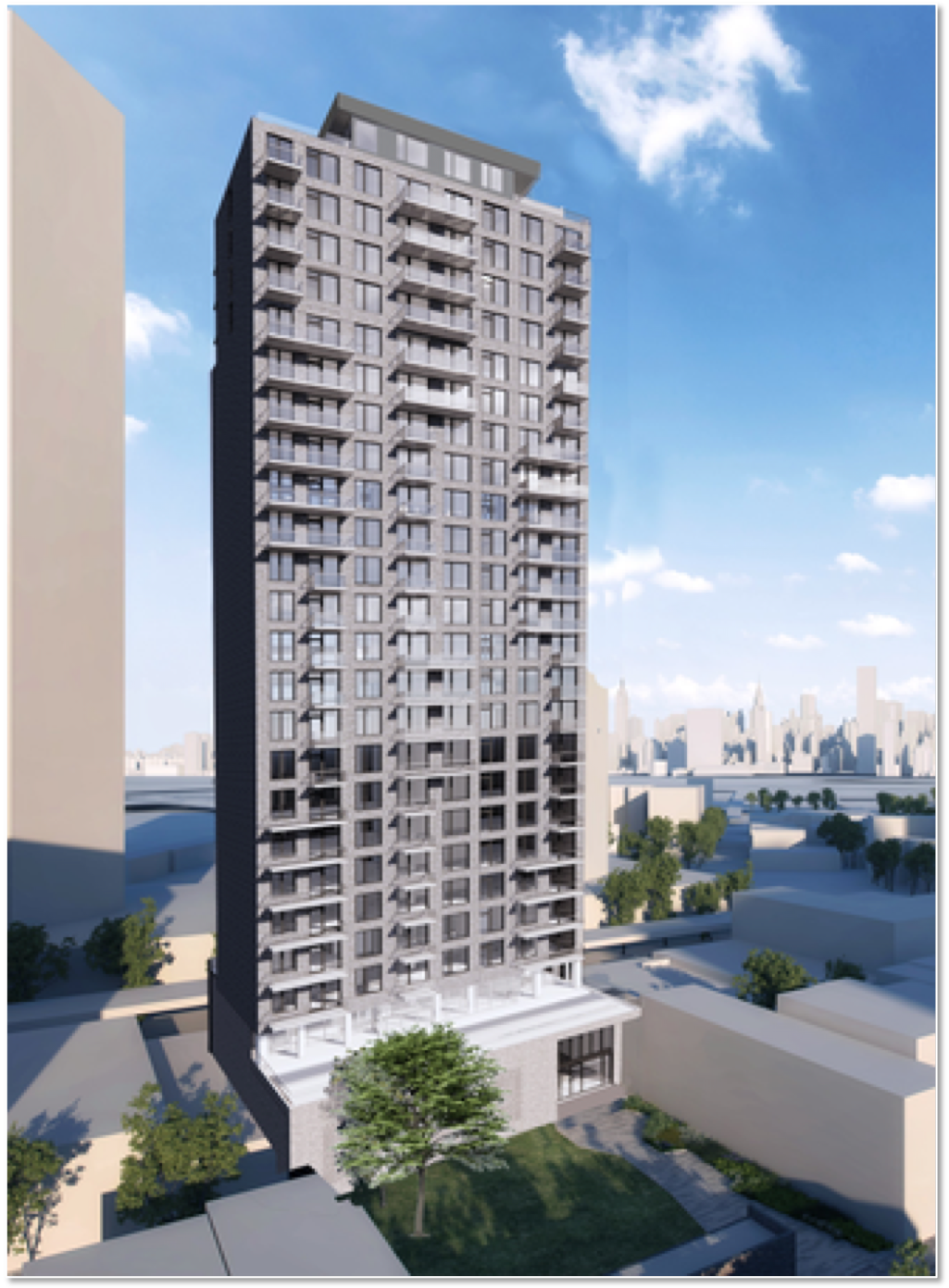 ---
Payment Projection
Expected Dividend Calendar
Round of Dividend
Round of Investment
Funding Amount
Dividend Date *1
Counting Date
Ending Date
Dividend Period
Notes
First
Phase I
$1,500,000
No Later Than
6/14/2021
6/1/2021
5/31/2022
12 Months
Pre-Paid Dividend
Phase II
$1,500,000
No Later Than
7/14/2021
7/1/2021
5/31/2022 *2
11 Months
Pre-Paid Dividend
Phase III
$1,500,000
No Later Than
8/14/2021
8/1/2021
5/31/2022
10 Months
Pre-Paid Dividend
Second
No Later Than
6/14/2022
6/1/2022
11/30/2022
6 Months
Extension Options Owned by Developer
Third
No Later Than
12/14/2022
12/1/2022
5/31/2023
6 Months
Extension Options Owned by Developer
*1 In case of holidays and non-working days, the dividend date will be automatically postponed to the next working day.
*2 After the expiration of the first Dividend Period, the developer has the option to extend the borrowing 3 times. If the developer chooses to extend,   the investors will receive dividends at the same rate of return during the postponement.
---
INVESTMENT HIGHLIGHTS
Sufficient Value in the Collateral
According to the appraisal provided by Marshall & Stevens Valuation Consulting in January 2021, the value of the property is estimated in $140,600,000 after completion.
The short-to-mid-term loan provided by CrowdFunz 817 Phase 1 Fund is pledged by the borrowing entity's 100% ownership interests. By May 2021, the equity investment in borrowing entity is over $18 million, which is 5 times of the loan provided by CrowdFunz 817 Phase 1 Fund. In addition, to protect the interests of fund investors, the developer also provides unlimited personal guarantees in this borrowing.
Prime Location, In Demand Market
The project location is in Long island City, Queens, a prime and up trending area, and it's on the other side of East River, directly facing the United Nation headquarter. The surrounding public transportation is well-developed, and there are 7 subway lines and multiple bus lines covered. The residents can reach various communities in Queens, Brooklyn, and Manhattan. It also takes about 20-minutes driving from the site to LGA airport and 30-minutes to JFK airport.
Long Island City has become one of the most booming areas nearby Manhattan. Commute convenience has made the area development rapidly and attracts many young professionals in financial and IT industries to live here. The population density has been catching up with the traditional prime neighborhoods in Manhattan. The population has steady and growing income in general. The commercial and residential developments of the area is expected to be prosperous.
Transparent Fund Usage, Explicit Exit Strategy
Currently, the architecture plan and the construction loan have been approved. The loan originated by CrowdFunz 817 Phase 1 Fund will be used for the early-stage construction, and it will help the developer maintain a healthy financial level in order to obtain further loan disbursement from the bank smoothly. As of May 2021, the developer has contributed $18 million cash in equity, and the equity will keep increasing along with the development. Investment process of CrowdFunz 817 Phase 1 Fund is controlled strictly based on the actual progress of the project, proposed to disburse in three phases supporting construction foundation constructions.
Seasoned Developer with Approved Experience
This development is led by a seasoned Chinese American development group and an emerging New York local developer. The whole team has commercial real estate development experience for over 3 decades. The development team has completed numerous projects including retail complex, mega residential, and mixed-use buildings in various uprising areas in Queens. In 2017, the leading Chinese American developer has cooperated with CrowdFunz in CrowdFunz Fund 606, paying back interest and principal on time. Based on prior records, the developer's project has met the market needs; the units sold out quickly, and some projects have become local landmarks. We believe that CrowdFunz 817 Phase 1 Fund will help developer gain success in Long Island City market while being rational investment opportunity for fund investors.
---