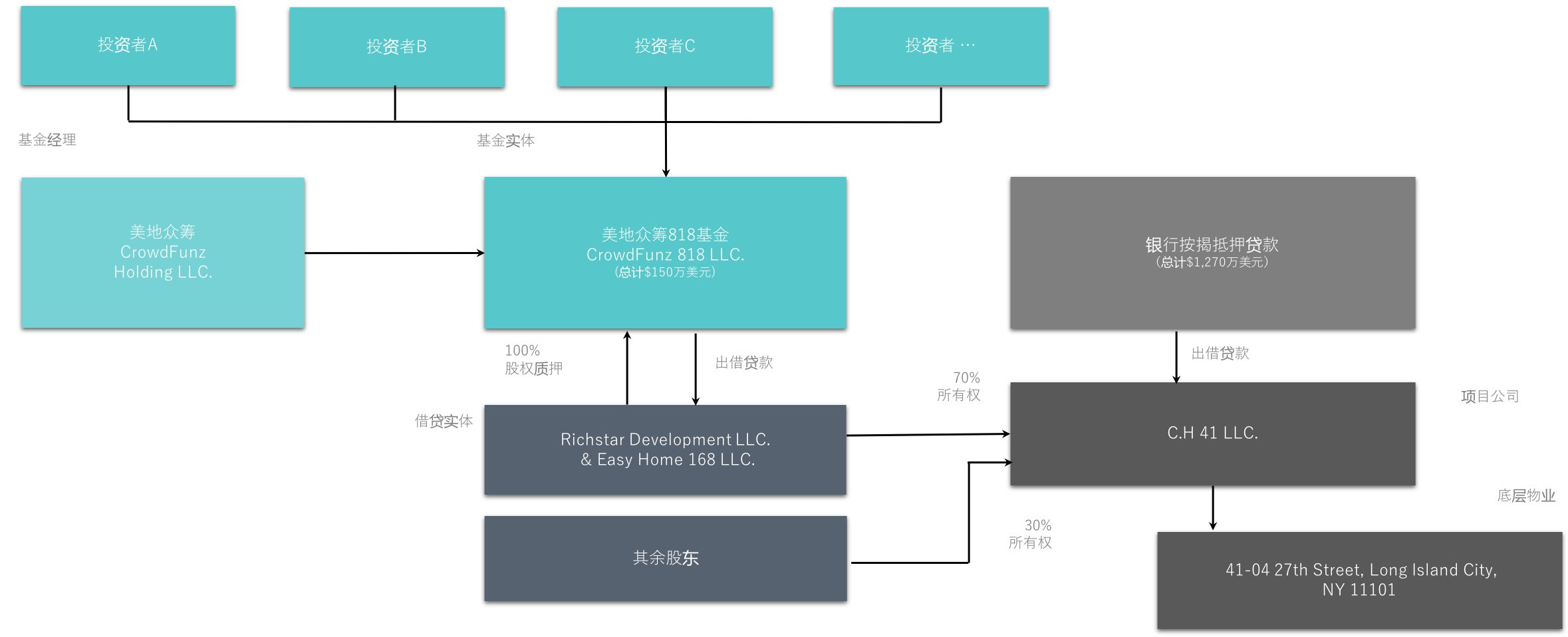 Source of Capital
Percentage
Total Mortgage Originated by Commercial Bank
$12,700,000
61.35%
Total Loan Issued by CrowdFunz Fund 818
$1,500,000
7.25%
Total Developer's Equity
$6,500,000
31.40%
Total:
$20,700,000
100.00%
After the loan issued by CrowdFunz Fund 818 contributes to this project, the capital stack will consist of:
The $12,700,000 mortgage originated by commercial bank, holding first lien and counted 61.35% of total capital.
$1,500,000 mezzanine debt issued by CrowdFunz Fund 818 pledged by major property ownership equity, counted 6% of total capital.
The equity value of the project is estimated $6,500,000, counted 31.40% of total capital.
The loan issued by CrowdFunz Fund 818 is pledged by 70% of the project entity's total ownership interest which is worth $4,550,000. In addition, the key persons of the project entity also provide unlimited personal guarantees for the borrowing.
Use of CrowdFunz Fund 818
Percentage
Underground Construction Costs
Fund Capital
Shoring
$200,000
13.33%
Excavating
$400,000
26.67%
Foundation
$300,000
20.00%
Pike Work
$300,000
20.00%
Slab
$300,000
20.00%
Total
$1,500,000
100%
Site Address: 140-42 Sanford Avenue, Flushing, NY, 11355
Site Area: Flushing, Queens, New York
Lot Size: +/- 5,775 Square Feet
Zoning: R7-1 (FAR=4.0)
Salable Size: 28,365 Square Feet
Buildable Size: 41,890 Square Feet
* Construction Costs Data Provided by Developer.
The capital offered by CrowdFunz Fund 818 is a mezzanine loan, up to $1,500,000. The loan is expected to be used for the underground construction costs.
The existing building at the Flushing Project has been demolished, and foundation works will begin soon. The loan issued by CrowdFunz Fund 818 will enter after construction starts to facilitate early-stage processes.
The Flushing Project will be a mixed-use building with 42,000 buildable square feet. It will contain 33 residential rental units, 10 parking lots and 4 community facilities. The whole project is expected to enter middle-to-late stage after 1 year, and the developer will pay off the loan issued by CrowdFunz Fund 818 by refinancing from commercial bank at the time.